On my continuous hunt for places with patios, I stumbled upon MIA Flower & Tea. The photos I found online intrigued me, and I set out to see what they had to offer. It was a bit difficult to find at first, but completely worth it. Their eclectic decor (think grandma's shabby chic garden) and private courtyard are a true delight. Every nook in the two-story café has been festooned with knick-knacks, making it just as fun to explore as it is to sit and sip your coffee or tea.
At the rear of the building you'll find a real treat, a four-season courtyard where you can enjoy the weather in a fairly private environment. Carry on up the stairs to the right to go to the second story. You'll find another small exterior seating area with a view of the courtyard and a few more private rooms inside. If you're exploring, don't stop until you get all the way to the end of the building. In the room furthest from the patio on the second floor, there's a section of glass floor where you can peek down at the level below.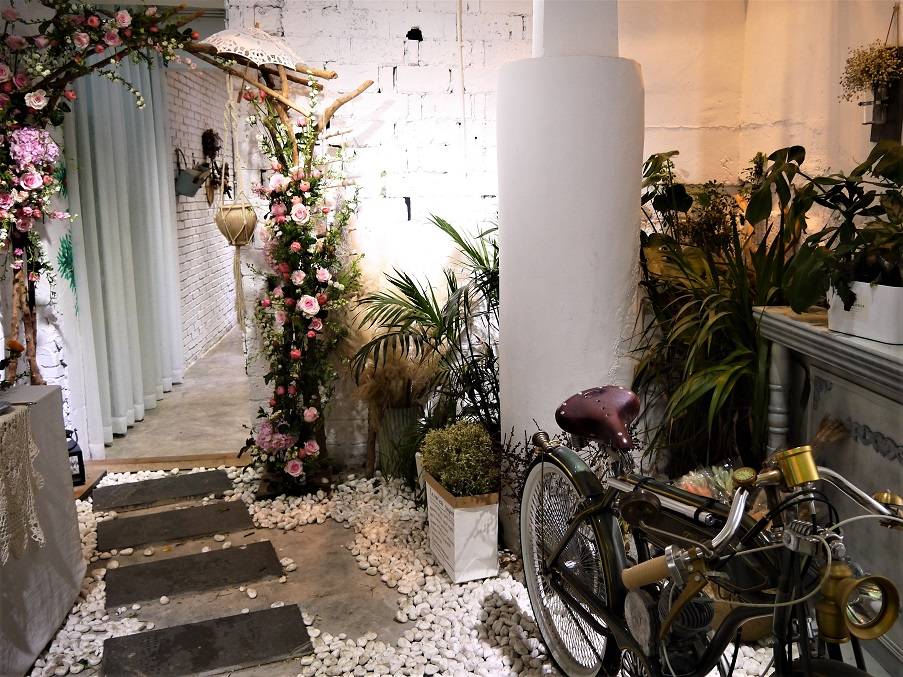 The  menu at MIA has a good selection of tea, coffee and fruity drinks. There's a convenient iPad with large photos to swipe through, so it's easy to order. I wouldn't say they serve exceptional beverages, but everything is nice enough if you're just coming to enjoy the peaceful cafe.
MIA Flower & Tea is in an alleyway that branches off of Wenchang Bei Lu. Opposite Black Hotel and slightly north, you can see a long stairwell between two buildings. Go all the way up those stairs, turn left, and then turn right at the next alley. MIA will be ahead of you on your left. If you'd prefer a map, type MIA 咖啡馆 into Baidu Maps and it'll help you locate the café.
TAXI (to Hunter): 亨特购物中心
Hours: 1:30 PM-11 PM daily
Contact: (WeChat ID) Ayuhome (no English)