Chongqing hotpot is not for the faint of heart. Numbing Sichuan peppercorns and dried chilis swim in chili oil and beef tallow, coming together as a seriously spicy brew to cook your food in. It's served hot — so hot that many places refuse to deliver because the oil will melt plastic.  If you're going here, do yourself a favor: get at least medium-spicy. Having ordered the lower level of spice once, it's clear that the spice of the chilis is needed to cut the heaviness of the oil, and without it the hotpot is pretty lackluster.
For our bubbling cauldron of spicy oil, we chose lotus root (藕片 #309), gluten balls (面筋 #320), crunchy fried pork (现炸酥肉 #113), tofu skin (豆皮 #305), meatballs (香菜丸子 #217) and a side order of cold rice noodles and chilis (凉拌米豆腐 #401). Every table receives a free order of leafy greens as well. Don't forget rice, as you'll want to have something to tap excess oil off of your food before dipping it in your sauce.
A note: though we got gluten balls, you'll generally want to avoid porous or absorbent ingredients — they suck up the oil and can land you with an overwhelming mouthful of it. If you do get something like that, cook it in the plain broth in the center.
I've (almost) never met a hotpot I didn't like, but the dipping sauce is always the factor that elevates hotpot from good to amazing. With Chongqing hotpot, you're provided the usual lajiao, garlic, cilantro, and green onions (serve yourself from a central table),  and also given bottles of sesame oil and oyster sauce. It seems counter-intuitive to dip oily food in oil, but the dipping sauce adds a salty finish and pushes the flavor of the whole thing over the top.
The other favorite thing here are the meatballs. The first time we ordered them, we waited a while and finally asked the server why the meatballs hadn't arrived. She pointed to a bowl of ground pork and herbs sitting on our table, and walked away. It turns out, they're like DIY meatballs, where you use a spoon to scoop out fresh balls of ground pork dotted with cilantro, and fling them into the boiling oil. Tasty, for sure, but mainly just really fun to do.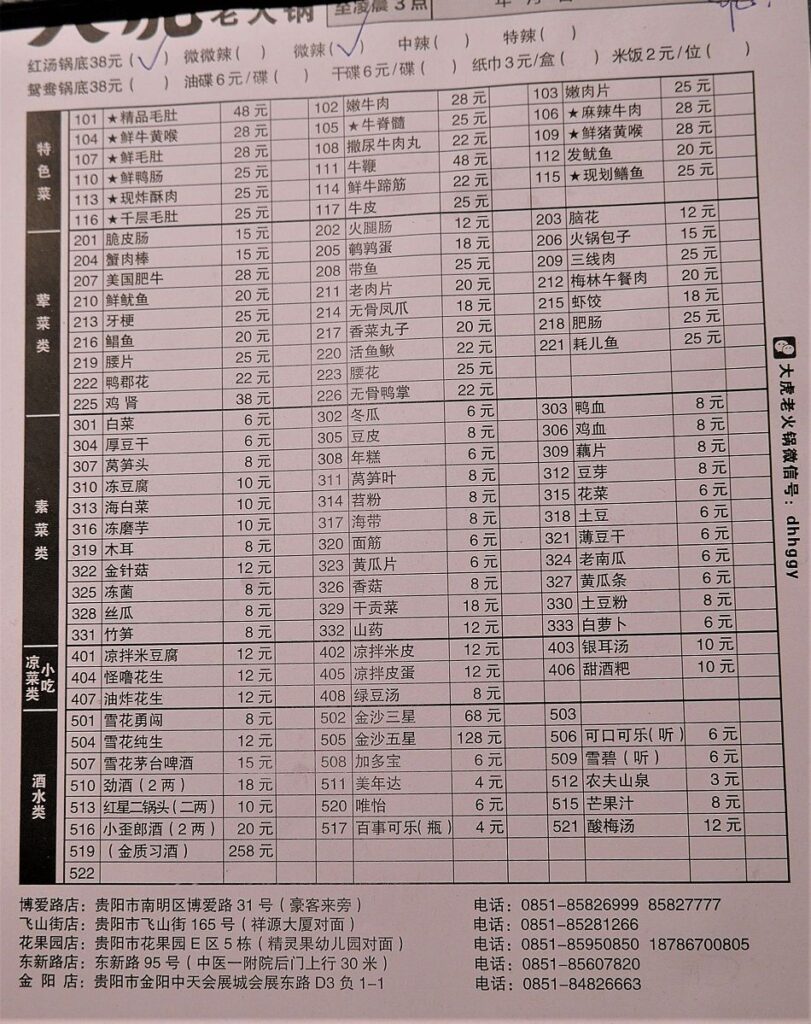 Dahu's menu is a standard checklist menu.
Tick 红汤锅底 (hóngtāng guōde)for the standard Chongqing hotpot broth, and go for 中辣 (zhōng là, medium-spicy) or above, for the best-tasting hotpot.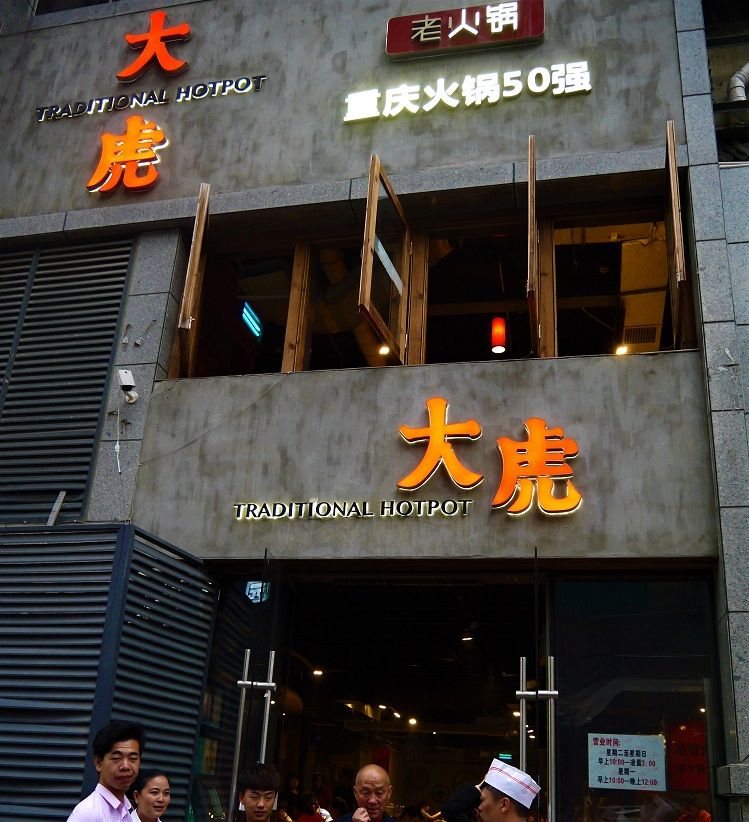 Dahu Chongqing Hotpot is on Bo Ai Lu, near the traffic circle downtown. It's just about in the middle of the short road, between Dusi Lu and Xinhua Lu. The storefront isn't exactly as pictured here (photo is from an old location), but it's similar enough you'll be able to easily spot it.